Featured products
Light Logics supply a range of Holographic Optical Elements with custom response needed for Original Equipment Manufacturing. Whether it is a high efficiency volume phase filter or a custom beam shaping element, we accept challenging demands of OEMs. Right from design to prototype testing, final recording to mass production and delivery, we work in close coordination with OEMs to ensure deliverance of quality custom HOEs and diffractive optics.
For more information, Please Contact Us
Light Logics effectively here fuses here its decades of hands on experience in laser holography and document security to develop highly dependable and ultra-high security banknote holograms, much superior than the holograms and OVDs being used now on most of the currency notes. Banknote holograms and OVDs are widely attacked by organized counterfeiters. We keep this basic fact in mind while doing our Banknote hologram designs.




Also, our Banknote holograms are originated through the fusion of an ensemble of mastering technologies. This makes it a virtually impossible task, even for the most sophisticated counterfeiter, to successfully make a 'look alike' hologram, while making the primary verification of the hologram and OVD very easy. Our latest trackable non-counterfeitable Banknote (patent pending) is a path breaking innovation for next generation Banknotes.
For more information, Please Contact Us
Coded Portrait Hologram is a patent pending innovation that, for the first time in the history, makes it possible to have a coded stamp size true 3D portrait hologram of an individual, incorporated in his/her passport, VISA or the national ID, within a few seconds of its recording. The hologram introduced possibility of machine readability too, through phase encoding of data. For more information, Please
Contact Us
Due to its stunning depth and high brightness, Photopolymer holograms are gaining more and more popularity and importance in security, authentication and product promotion. We deliver both color and monochrome photopolymer security holograms that meet your challenging requirements.
For more information, Please
Contact Us
Aim Sights are used to sharply and quickly aim a weapon. Holographic aim sights are considered as the fastest and most efficient among the Aim Sights now available. This device has many strategic applications in Close Quarter Battle (CQB), Anti-terror and Anti-insurgence operations. Defence Research and Development Organization (DRDO), Government of India joined hands
with Light Logics in its development and optimization of holographic Aim Sights and the association yield great results. Our innovation on traditional holographic Aim Sight elements resulted in the development of new generation holographic Aim Sights and the technology begged the Innovation Gold Medal, jointly instituted by the Lockheed Martin (USA), Department of Science and Technology – Government of India, University of Texas at Austin, Indo-US Science and Technology Forum and the FICCI.

For more information and bulk product sourcing of holographic Aim Sight Elements, please Contact Us

Wide spread use of digital devices has made counterfeiting and forgery very easy and now even currency notes with very sophisticated security features are widely attacked. A University Degree Certificate is a prestigious and core document in the life and growth of a person and it must also remain intact for a lifetime. Hence secure deliverance of certificates is as important as providing quality education itself.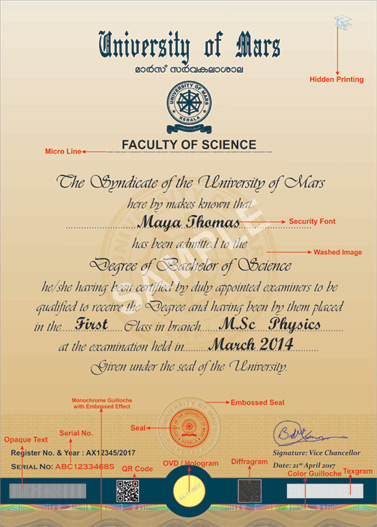 Job aspirants now travel across the globe and this adds new dimensions to the security requirements of University Certificates. Recent global events of data breach pose many fundamental questions against the security and long-term reliability of Cloud based data/image storage and on-line operations. Forgery of University Certificates can kill the brand image of a reputed institution.

Same is the case of land title deeds, corporate agreements etc. Light Logics designs and delivers ultra-high security document paper that fuses photonics, ICT and printing based security features that are virtually impossible to effectively counterfeit.

For more information and bulk product sourcing, please Contact Us