Hologram/ Document Readers

Secure Certificate Printing Software

Security Fonts
Covert Laser Readers
This handheld reader with a battery operated solid-state laser can read holographic hidden information, CLR images, hidden animation etc. This is especially suitable for reading hidden images and knowledge based security information. This device is of much use for expert level authentication of Tax Stamps and Documents, including Currency Notes.

Covert Laser Readers
Hybrid Hologram/ Document Readers
This reader can magnify, locate, precisely probe with a laser beam and read the hidden information. A selector switch facilitates white-light and laser illumination. An adjustable lens makes it handy for persons with different eye accommodation. Apart from the above, this very compact reader can also read micro text, Guilloche patterns, kinematic colour information and other general overt and CLR features of holograms.

Hybrid Hologram/ Document Readers
Digital Reader Mouse
This new generation digital reader mouse is a versatile Security Reader that connects to the laptop or the personal computer. It has various advanced options for white light, ultraviolet and infrared reading, and gives high image details with a combination of optical and digital magnifying power. It has excellent optical quality. Combined with image grabbing and variable data tracking software, it functions as a tool ideal even for challenging field level authentication requirements.

Covert Laser Readers
Digital Hybrid Hologram/ Document Readers
This digital reader with a 50mm x 40 mm LCD display is the ultimate handy security reader for both field level and desktop level verification. It combines compactness, flexibility and user friendliness. Hence it is a choice of both experts and enforcement. It can directly display the images or connect to a laptop or a PC. Sophisticated capabilities and adaptability of this reader makes it a very handy tool for the verification of high security holograms, tax stamps and documents with both printed and advanced holographic features. Its excellent optics, combined with the LCD display and electronic fixed zoom, makes it smart and ideal tool for hassle free field verification.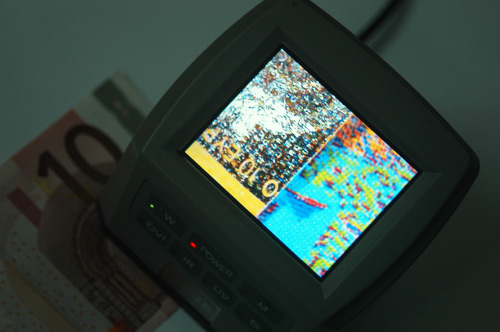 Digital Hybrid Hologram/ Document Readers
SecuSoft
Software for secure printing of Marksheets/ Certificates and Variable Data
In-house secure printing of Certificates, Marksheets and Documents pose many challenges. Insulating the system from deliberate or accidental human errors, maintaining print data in a fool proof and tamper proof manner, maintenance of inventory of security raw materials etc. to all practical aspects of secure printing of Marksheets and Certificates are taken care of in a secure manner by this innovative expert system. Leading Autonomous Institutions and Universities use the SecuSoftTM system for hassle free in-house secure document printing. For more details please Contact Us.
Security Fonts
This novel feature introduced by Light Logics is widely used in various advanced document security applications. The fonts are application specific and custom developed.