Featured Solutions
Optical Structures & OVDs are used on all modern currency notes, including the Euro and the Dollar. Design & origination of banknote holograms is a highly specialized work that demands deep rooted expertise and experience. Light Logics designs & originates highly intricate and state of the art combination of optical structures that are optimum for banknotes. Various levels of machine readability and authentication with legal sanctity are incorporated effectively to meet the challenging goals.
For more information, Please Contact Us

Whether it is paper or polymer based currency, the security technologies associated with printing and production of these are changing in a highly dynamic manner. In a way, this change is driven by the race between the counterfeiters and the governments. History of leading currency notes tells us about decades of research on materials, security features, and their mutual integration leading to long term dependability, easy primary authentication and scope for expert level verification.
Hence, those who design Currency notes must have a great amount of knowledge on all traditional and emerging trends of the associated technologies. Also, they must have an in-depth knowledge about the methods used by the counterfeiters and how much a new security feature is prone to an attack. Light Logics' has core expertise in this avenue and our leading experts have over three decades of acclaimed experience in document security and we have relevant patent pending award. Fusion of photonics, ICT and printing technologies make our designs distinct and virtually impossible to counterfeit.
For more details please Contact Us
Holographic precision NDT&E are widely applied in the aerospace industry. The technique has many advantages over traditional testing methods such as UT, PT, RT, MT and is highly suitable for several niche applications. It is a non-contact method that provides defect detection in submicron accuracy. Also, it tests an area at a stretch and does not require point by point measurement.
Since HNDT is highly sensitive, it can yield information about defects in deeper regions of a sample. Digital Holographic NDT (DHNDT) captures data in a live manner and hence iteration studies are easy and due to this the technology is especially suitable for behavioral analysis of designs and materials. Our HNDT and DHNDT systems are flexible and fast and hence the technology gains wider acceptance in sectors such as marine, offshore, railways, automotive, architecture, civil construction and condition monitoring etc.


Our Precision NDT & E Services
Fine Flaw and Crack Detection

Design Optimization

Stress Mapping

Prototype Testing

Strain Measurement

Material Studies

Yield Point Analysis

Composition Optimization

Thermal Studies

Model Studies and Analysis

Elastic Studies

Condition Testing and Monitoring

Vibration Analysis

Seismic Studies etc.
Our Facilities
Analogue and Digital Field Testing facilities

Digital and Analogue Holography Laboratories

High Energy Ultra short-pulse Lasers
Our Uniqueness
Expertise in both Digital and Analogue HNDT

Over three decades of experience

We associate with the Indian Space Research Organisation

Well experienced and qualified manpower

Both onsite and lab based Service rendered

Quick global reach.
Tyre Design Testing and Optimization
Our technology is especially suitable for testing and optimization of new tyre designs. Stress distribution at the foot print and side walls of new tread designs and behavioral analysis of new material compositions can be precisely mapped and studied. Precision deformation mapping of prototype tyres done by Light Logics by applying our state of the art laboratories is given below.

Digital hologram optical structure

Holographic micro defect detection of an aerospace component

Stress distribution on a metal pipe

Precisely mapped of deformation of a metal block

Prototype and Model analysis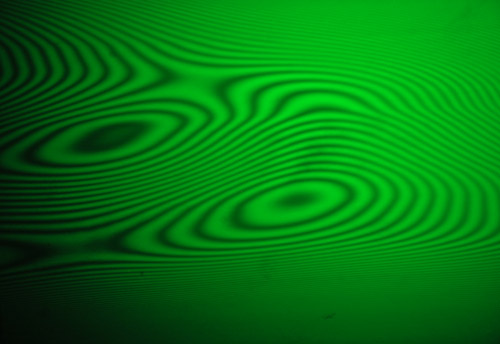 Precise mapping of a thickness variation of a plate

Precise mapping of a thickness variation of a plate
We are at your service. For more information please Contact Us.
Holography is now termed as ultra-realistic imaging and creates optical clones of stunning realism. Even if a portion of a hologram master is damaged, it recreates the entire image recorded. Hence the technology has great importance in image and information archiving. More importantly, holography can achieve even a resolution of the order of 250,000 lines per inch and this is much higher than the ordinary digital resolution.
Holographic storage of images of national leaders, prominent personalities and objects of national, international and cultural importance has great relevance. The technology is much superior to any other 3D technologies. (It is worth mentioning here that the old technology of Peppers Ghost projection is put in a new bottle and shamelessly marketed now by some companies as 'Digital Holograms'. This is just to cash the wide global acceptance and goodwill gained by Display Holograms and has nothing to do with holographic imaging. Please read the White Paper). Light Logics is one among the very few companies in the world with core competence in holographic image archiving and museum holography.
For more details, Please Contact Us
Holograms have unique ability to scatter, direct, focus, filter and disperse light than any other type of lighting element. Light Logics has core competence in the design and development of holographic diffractive elements for architectural and decorative lighting.
For more information, Please Contact Us
Proper expert level and forensic level verification of security documents and instruments of financial transactions is a must in bringing out a possible forgery and counterfeiting. It is vital in the legal matters and the entire related decision making. Modern security documents are truly complex in its security content and in their authentication. Hence' verification of the authenticity of documents is a subject that requires specialized knowledge, experience and facilities.
Light Logics offers technical service in scientific verification of security documents, IDs and OVDs and we render the service globally.
For more information, Please Contact Us